Eco-Compatible Materials and Polymers
Team leader: Pr. Nicolas Sbirrazzuoli, PU
The team's work is part of a sustainable development approach and the promotion of a bio-based economy. The activities under this theme concern the synthesis, development and characterization of biosourced and/or eco-compatible polymers, composites and nanocomposites. The aim is to find alternatives to compounds derived from petrochemicals, to develop sustainable processes for producing such materials, to valorize certain compounds derived from plant biomass, to valorize by-products from industry and biorefineries, to find alternatives to the use of compounds that are toxic and harmful to the environment, and to improve the properties of these new materials thanks to fillers or natural fibres. The compounds studied are derived from raw materials that do not compete with food. Materials based on biobased polymers, derived from renewable resources, are an emerging field, most of which are at early stages of development. Plant biomass therefore represents an inexhaustible and diversified source of raw material.

Keywords: Biobased polymer, thermoplastic, thermoset, nanocomposite, nanostructured material, polymerization, curing, crystallization, nucleation, glass transition, melting, thermal stability, nanoparticle functionalization, Poly(ethylene 2,5-furandicarboxylate) (PEF), Poly(butylene succinate) ) (PBS), Poly(Furfurylic Alcohol) (PFA), Vegetal oils, Epoxidized Linseed oil (ELO), Epoxidized Soybean oil (ESO), humins, lignin, furanic compounds, cellulose, natural fibers, lignocellulosic biomass, Thermal Analysis, Kinetic of complex reactions, Advanced isoconversional analysis, Model-free kinetics, Differential Scanning Calorimetry (DSC), Thermogravimetry, Reaction Calorimetry, Temperature Modulated Differential Scanning Calorimetry (TMDSC), Fast Scanning Calorimetry (FSC), Rheology, Mechanical properties.

The team is developing a single theme that revolves around two axes:
Biosourced platform molecules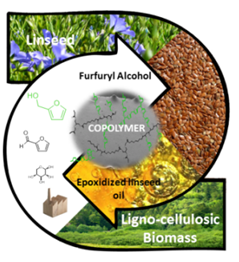 Examples of 100% biobased polymers and composites with excellent optical, thermal and mechanical properties.